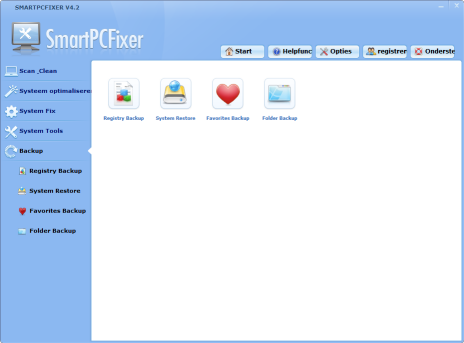 Backup:SmartPCFixer™ is uitgerust met Registry Backup, Restore Point, Favorites Backup en Folder Backup. U kunt de registerdata, favorieten, en de privé informatie van mappen opslaan met SmartPCFixer™.
Registry Backup
Restore Point
Favorites Backup
Folder Backup
Folder Backup: dankzij deze functie bent u in staat om makkelijker een back-up te maken van belangrijke gegevens en bestanden.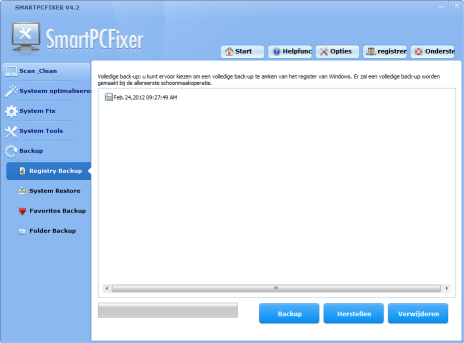 Registry Backup: automatisch of handmatig back-ups maken. Er zal een volledige back-up worden gemaakt bij u eerste schoonmaakoperatie.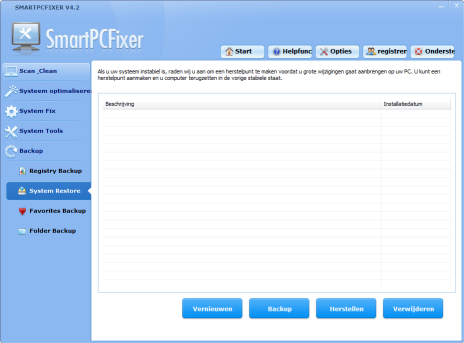 System Restore: in geval van instabiliteit van het systeem raden wij u aan om een herstelpunt te maken voordat u uw PC-systeem grote handelingen laat uitvoeren. U kunt een herstelpunt aanmaken en u computer terugzetten in de vorige stabiele staat. Restore Point is a saved snapshot of your computer data at any given time. In case of system instability, you'd better save the state of the operating system before any major changes are going to be made in your computer. When a Restore Point is established, your PC saves a backup file at that specific time. You can choose a Restore Point and return your computer to a previous working state if you need to do so.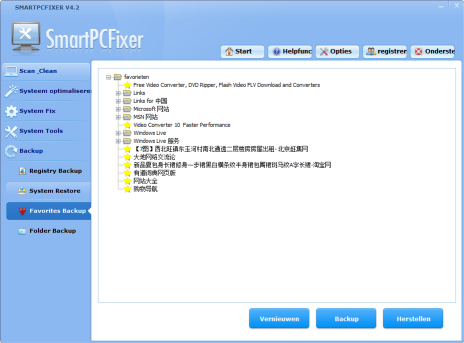 Favorites Backup: maak een back-up van uw favorieten.